Trust in the Lord with all your heart and lean not on your own understanding. In all your ways acknowledge Him and He will make your paths straight. - Proverbs 3:5-6
At the end of 2008 Pastor Darin and his family moved back to Iowa where he began an eighteen month process at Bethany Alliance Church in Charles City with the goal of starting a new church somewhere in northeast Iowa. After months of talking and praying it became obvious that God was leading the Cerwinskes to start the new work in their hometown of Nashua.
In November of 2009 others were asked to pray about joining the efforts and eventually seven other families came on board wanting to see Nashua and the communities around it transformed by Christ.  With the help of Bethany Alliance and the hope that God would do marvelous things this group set off on their own in July of 2010 starting what would be known as Cedar Point Church.
Why Nashua?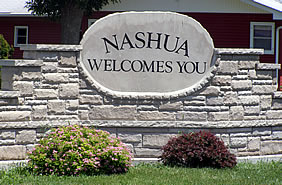 First of all, we love Nashua and the people who live here. It's a great place to live, raise a family, or retire. Because most of us already were living here we simply wanted to help make our community the best it can be and strongly feel that will happen when God is a part of our lives.
Church shouldn't be just a place that you go to on Sunday mornings, but the church - the people - should have an impact on those around them every day of the week. Christ has called people not to "go" to church but to "be" the church.
Every church should ask itself, "If we ceased to exist, would the community notice?"  Cedar Point doesn't want to simply be the best church IN the community, but the best church FOR the community.
The Future
We don't pretend to have it all figured out, but as we seek to follow Christ and come along side others in their journey with God, we are excited to see what God's going to do and where He's going to take us.
This is just the beginning!